Prince Harry and Meghan Markle Just Launched Their Archewell Website
The Royal couple's new project is finally being revealed to the world.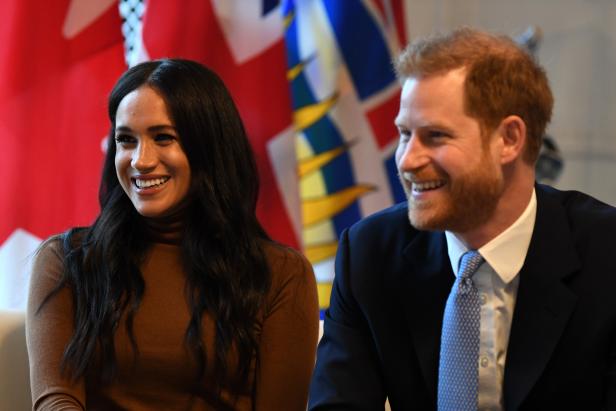 1192406417
LONDON, UNITED KINGDOM - JANUARY 07: Prince Harry, Duke of Sussex and Meghan, Duchess of Sussex smile during their visit to Canada House in thanks for the warm Canadian hospitality and support they received during their recent stay in Canada, on January 7, 2020 in London, England. (Photo by DANIEL LEAL-OLIVAS - WPA Pool/Getty Images)
After closing down their Sussex Royal website and brand earlier this year, Prince Harry and Meghan Markle are officially back online and introducing the world to their new non-profit site, Archewell.
The Achewell website currently only previews their homepage. With a simple beige background and a few details about the nonprofit's mission available, fans of the couple can sign up to receive updates about projects they'll be working on.
According to the site, Archewell is derived from: "Arche (/rki/; Ancient Greek:): (n.) Greek word meaning 'source of action' and 'Well (/wel/): (n.) a plentiful source or supply; a place we go to dig deep.'"
Harry and Meghan revealed in an interview earlier this year that they wanted "to do something of meaning, to do something that matters." Since leaving their official duties, Harry and Meghan are now free to take on projects and causes of their choosing.
"We connected to this concept for the charitable organization we hoped to build one day, and it became the inspiration for our son's name," Harry and Meghan said. "Archewell is a name that combines an ancient word for strength and action, and another that evokes the deep resources we each must draw upon. We look forward to launching Archewell when the time is right."
While Harry and Meghan haven't revealed which projects they will be working on, the couple has been quite active in promoting mental health support, as well as gender and racial equality. We look forward to seeing all of the great things this power couple will be doing.