Prince Harry And Meghan Markle Opened Up About Quarantine Life with Archie
Little Archie has taken his first steps!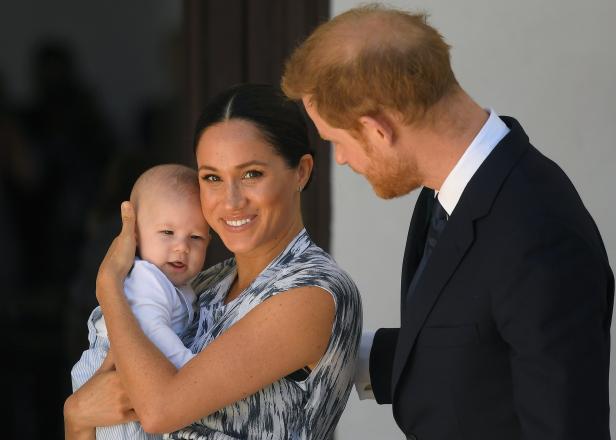 1170982790
CAPE TOWN, SOUTH AFRICA - SEPTEMBER 25: Prince Harry, Duke of Sussex and Meghan, Duchess of Sussex and their baby son Archie Mountbatten-Windsor at a meeting with Archbishop Desmond Tutu at the Desmond & Leah Tutu Legacy Foundation during their royal tour of South Africa on September 25, 2019 in Cape Town, South Africa. (Photo by Toby Melville - Pool/Getty Images)
After leaving their official duties with the Royal family, Prince Harry and Meghan Markle slowed down their busy schedules, but the coronavirus put the brakes on their newfound freedom. While living through a global pandemic can be hard, the royal couple shared a few silver linings in quarantine.
Harry, Meghan and their 1-year-old son, Archie, have been quarantined in their Santa Barbara home. The couple opened up about their lives in a video interview with Nobel Prize laureate Malala Yousafzai for International Day of the Girl.
First up, updates on sweet Archie. According to Harry, both he and Meghan were home for many of Archie's big milestones and they are grateful for this.
"We were both there for Archie's first steps, his first run, his first fall, everything," the proud dad said in a video interview with Malala Yousafzai.
Being in quarantine made seeing all of those firsts a lot sweeter for the couple. "In so many ways we are fortunate to be able to have this time to watch him grow and, in the absence of COVID, we would be traveling and working more externally," Meghan said. "We'd miss a lot of those moments. So, I think it's been a lot of really good family time."
While they are able to find the bright side of quarantine life, the couple said they are still very aware of how the pandemic has affected everyone. "We've been working really, really hard and completely understand and get how challenging this is for absolutely everyone. The longer it goes on, the more it's going to be felt, especially from a mental health aspect," Harry said. "This is a really unifying moment to bring everyone together and acknowledge what everyone has been through, this traumatic experience, wherever you are in the world."
Harry and Meghan believe this is exactly why they want to continue talking about mental health and the importance of reaching out to friends and family during these uncertain times.
We love seeing Harry and Meghan and hope to hear more about their lives with little Archie.