It's a Boy! Here's Everything We Know About Meghan Markle and Prince Harry's Royal Baby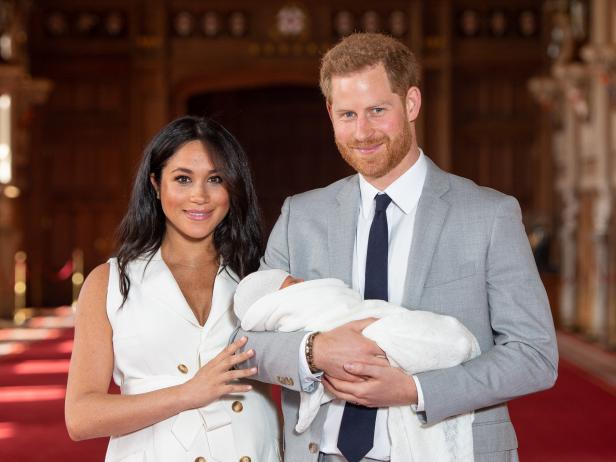 1142167980
WINDSOR, ENGLAND - MAY 08: Prince Harry, Duke of Sussex and Meghan, Duchess of Sussex, pose with their newborn son Prince Archie Harrison Mountbatten-Windsor during a photocall in St George's Hall at Windsor Castle on May 8, 2019 in Windsor, England. The Duchess of Sussex gave birth at 05:26 on Monday 06 May, 2019. (Photo by Dominic Lipinski - WPA Pool/Getty Images)
Baby Sussex, named Archie Harrison Mountbatten-Windsor, has officially made his first royal appearance.
While cradled by his father, the little boy was introduced to the world at the same place where his parents celebrated their royal wedding reception, St. George's Hall in Windsor Castle
"It's magic. It's pretty amazing," the Meghan said. "I have the two best guys in the world, so I'm really happy."
When asked who baby Sussex resembles most, Prince Harry said he seems to be changing each day and that it was too early to tell.
"We're still trying to figure it out," Prince Harry added. "Parenting is amazing. It's only been — what, two and half days, three days? We're just so thrilled to have our own little bundle of joy."
While the baby has a lot of royal family members to meet in the coming days, Harry said they are looking forward to spending some "precious time with him as he slowly, slowly starts to grow up."
Meghan Markle and Prince Harry welcomed Archie at 5:26 a.m. on Monday morning. News of the little prince's arrival came via the couple's new Instagram account.
"We are pleased to announce that Their Royal Highnesses the Duke and Duchess of Sussex welcomed their firstborn child in the early morning on May 6th, 2019. Their Royal Highnesses' son weighs 7lbs. 3oz," the post was captioned.
Meghan, who is believed to have been at least a week overdue, and her little boy are "both healthy and well."
The doting dad surprised reporters, who were patiently waiting outside of Windsor Castle, with an update.
"I'm very excited to announce that Meghan and myself had a baby boy this morning, a very healthy baby boy," Prince Harry said. "It's been the most amazing experience I can ever possibly imagine… This little thing is absolutely to die for."
Before the couple had decided on a name, speculation over the little prince's moniker soared. Some royal fans found that typing certain male names into the royal URL address may give us a clue about the baby's name. If you add "/prince-arthur," "/prince-alexander" or "/prince-james" after www.royal.uk, you'll be sent back to the original homepage. However, this is not the case with other boy names. If you added a name like Fred or Sam, users get a "page not found" message.
However, Buckingham Palace told fans not to get too excited over Arthur, Alexander or James because those names had long been reserved on the website.
While anticipation over first glimpses grew, Meghan continued her path to becoming a U.K. citizen. Archie, however, will be eligible for a dual citizenship in both the U.S. and U.K. because of his parentage.
He has quite the future ahead of him!