Prince Harry and Meghan Markle Revealed New Details About Their Exit from Royal Life
Is Prince Harry still in line for the throne?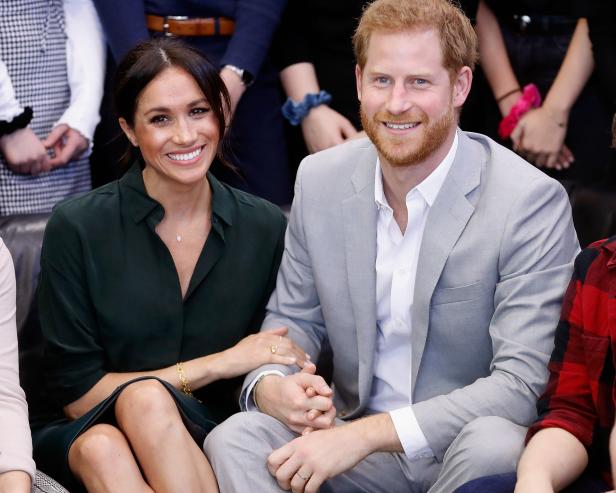 1045629912
PEACEHAVEN, UNITED KINGDOM - OCTOBER 03: (EDITORS NOTE: Retransmission with alternate crop.) Meghan, Duchess of Sussex and Prince Harry, Duke of Sussex make an official visit to the Joff Youth Centre in Peacehaven, Sussex on October 3, 2018 in Peacehaven, United Kingdom. The Duke and Duchess married on May 19th 2018 in Windsor and were conferred The Duke & Duchess of Sussex by The Queen. (Photo by Chris Jackson/Getty Images)
Prince Harry and Meghan Markle are getting closer to becoming the couple formally known as His and Her Royal Highness. On March 31, they will no longer be senior members of the royal family and will officially step back from all royal duties.
According to a statement released by the couple, changes for this transition have already started. One major change is to members of their staff, who will be laid off with the closing of their offices at Buckingham Palace.
"Based on the Duke and Duchess of Sussex's desire to have a reduced role as members of The Royal Family, it was decided in January that their Institutional Office would have to be closed, given the primary funding mechanism for this official office at Buckingham Palace is from HRH The Prince of Wales," the statement reads. "The Duke and Duchess shared this news with their team personally in January once they knew of the decision, and have worked closely with their staff to ensure a smooth transition for each of them."
Another major change is the name used on their social media and website—Sussex Royal. "The Duke and Duchess of Sussex do not intend to use 'Sussex Royal' or any iteration of the word 'Royal' in any territory (either within the UK or otherwise) when the transition occurs Spring 2020."
They have also removed all trademark applications for the Sussex Royal and will move forward with different names for their non-profit organizations. Also, the couple says their digital channels will be "refreshed" with updated information about the organizations they will be working with as they start this new phase.
So, is Harry still in line for the throne? While it seems unlikely that Harry will someday become king—he is sixth in line—he still has claim to the throne even though he is no longer a working royal. He will also retain his military rank and will not receive any new military duties.
The couple also addressed their need for continued security, but the specifics are not being released.
"It is agreed that The Duke and Duchess of Sussex will continue to require effective security to protect them and their son," the statement says. "This is based on The Duke's public profile by virtue of being born into The Royal Family, his military service, the Duchess' own independent profile, and the shared threat and risk level documented specifically over the last few years. No further details can be shared as this is classified information for safety reasons."
The statement ends on a positive note as the couple looks towards the future, saying, "The Duke and Duchess of Sussex eagerly await the opportunity to share more with you and greatly appreciate your support!"