Christine's Thanksgiving Rolls
Recipe courtesy of Christine Brown
We're sorry, there seems to be an issue playing this video. Please refresh the page or try again in a moment. If you continue to have issues, please contact us here.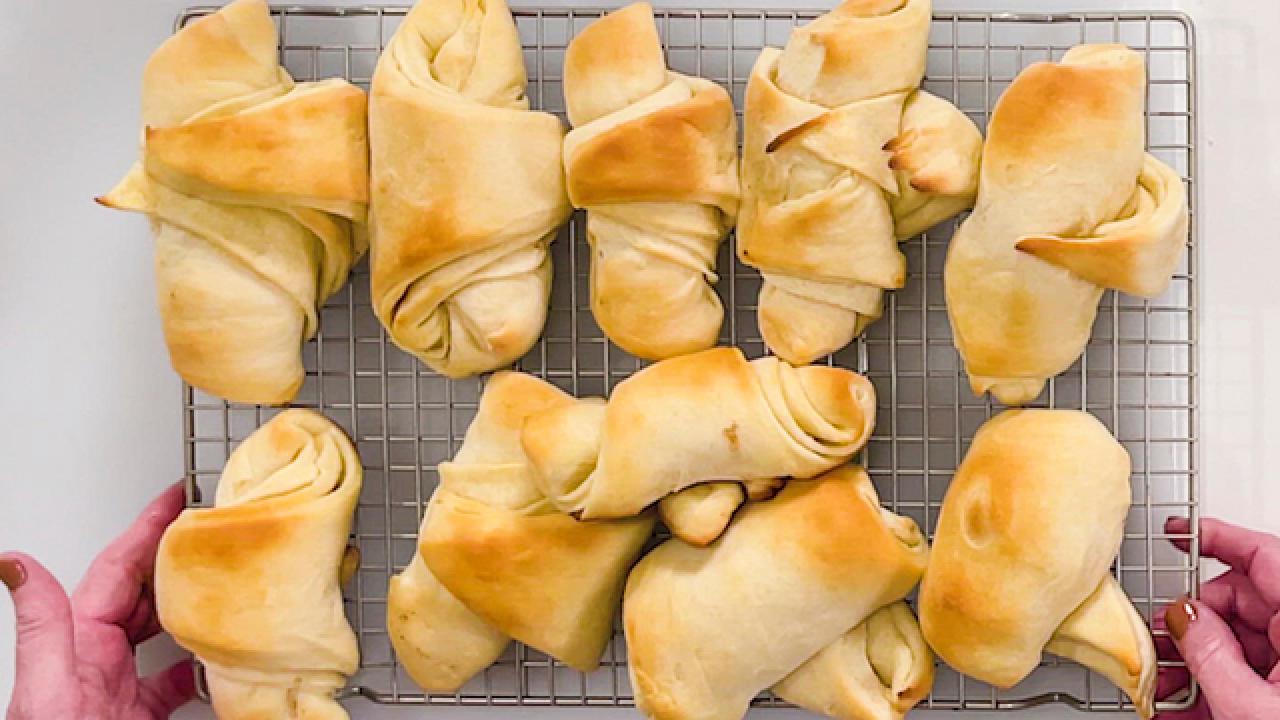 Sister Wives' Christine Brown has a recipe for hot, fresh dinner rolls that are a staple of the Browns' Thanksgiving feast, but will take your family dinners to the next level any time of year! Here's her step-by-step guide to the scrumptious rolls she baked on the latest episode of Cooking with Just Christine. Catch brand-new episodes every Sunday and scroll down for Christine's full Thanksgiving rolls recipe!
3 sticks (1 1/2 cups) salted butter, for melting, plus 5 tablespoons at room temperature
1 cup whole lactose-free milk
1/4 cup plus 2 tablespoons warm water
4 1/2 teaspoons instant yeast (2 packets)
1/2 cup plus 1 teaspoon sugar
3 large eggs, beaten
1 teaspoon fine salt
5 to 6 cups all-purpose flour, plus more for dusting the counter
Put 1 stick of butter and the milk in a small saucepan and melt over low heat. Set aside to cool.
Meanwhile, put the warm water in a small bowl and sprinkle on the yeast and 1 teaspoon of the sugar. Stir gently and let sit until yeast is activated and foamy, about 5 minutes.
Combine the eggs, remaining 1 cup sugar, and the salt in a stand mixer fitted with the whisk attachment and whisk to combine. Add the butter/milk mixture and the yeast mixture and whisk to combine. Remove the whisk attachment and replace with the dough hook. Add 5 cups of the flour, 1 cup at a time, mixing until smooth before adding another cup. Continue adding flour 1/4 cup at a time as needed until the dough is smooth and pulls away from the sides of the bowl in a ball, about 3 minutes total. Remove the dough from the bowl and place into a greased large bowl, then cover and let rise until doubled in size, about 1 hour.
Dust the counter with flour and divide the dough in half. Roll out each piece into a round about 10 inches in diameter. Using a butter knife, add about 1 1/2 tablespoons of the room-temperature butter in sections to half of the round only. Fold dough in half over the butter. Cut another 1 tablespoon of butter into sections and put on half of the semi-circle, then fold the other half of dough over to make a quarter-circle. Repeat with the remaining piece of dough and 2 1/2 tablespoons of room-temperature butter.
Melt the remaining 2 sticks of butter and let cool slightly. Brush each of three 10 x 15-inch jelly roll pans with 1 to 2 tablespoon of melted butter.
Starting with the first dough quarter-circle, roll out again into an approximate 10-inch round. Brush with 2 tablespoons of the melted butter and cut like a pizza into 8 sections. Starting from the outside of the round, roll up the wedges into the center. Put the dough crescents on a prepared jelly roll pan, spacing about 1 inch apart. Repeat with the remaining dough round to form a total of 16 crescents.
Place the rolls into a cold oven and heat the oven to 375°F. Bake until golden brown, 10 to 15 minutes.
Remove from oven and brush the remaining melted butter on the top of rolls while hot.
Total Time: 2 hours (includes rising time)
Ease of preparation: intermediate