Kate Middleton Opened Up About the Hardships of Motherhood and Pregnancy
Even the future queen feels mommy guilt.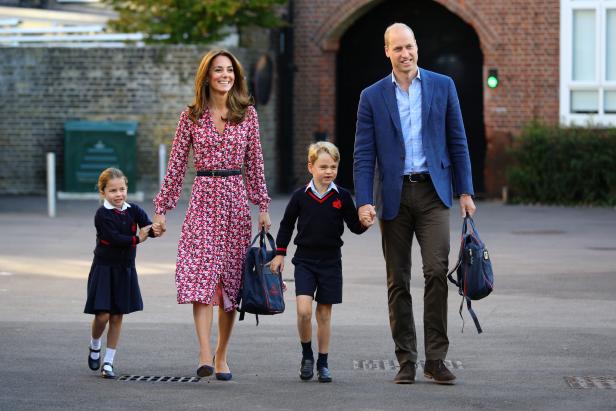 1166050314
LONDON, UNITED KINGDOM - SEPTEMBER 5: Princess Charlotte arrives for her first day of school, with her brother Prince George and her parents the Duke and Duchess of Cambridge, at Thomas's Battersea in London on September 5, 2019 in London, England. (Photo by Aaron Chown - WPA Pool/Getty Images)
Duchess Kate Middleton looks flawless when she steps out with her children. Her hair and clothes are always amazing; her three kids are always adorable. Even when one is a being a little cheeky—we're looking at you, Princess Charlotte—the Duchess seems to take it all in stride. However, we rarely get to hear from the future queen of England outside of a few planned speeches or short interviews. So, when she got candid about all things motherhood, pregnancy and her own childhood on a recent podcast, it made us want to invite Kate over for a moms' night out.
Middleton sat down to talk with Giovanna Fletcher for the Happy Mum, Happy Baby podcast. The conversation centered around the Duchess' landmark national survey that focused on early childhood, and she surprised listeners by opening up about herself.
When asked if she suffers from mom guilt, Middleton said, "Yes absolutely, and anyone who doesn't as a mother is actually lying. Yes, all the time."
When talking about her three kids, Prince George, 6, Princess Charlotte, 4, and Prince Louis who will be 2 in April, Middleton said she is a hands-on mum but sometimes feels like she falls short.
"It's a constant challenge, you hear it time and time again from mums," she said. "You're always sort of questioning your own decisions and your own judgment."
Middleton also admitted that she's not a fan of being pregnant. "Lots of people have it far, far worse, but it was definitely a challenge," she said of her pregnancies. "Not just for me but also for your loved ones around you."
She added that her husband, Prince William, often felt helpless when she was suffering from hyperemesis gravidarum, which is a severe morning sickness. "You know, William didn't feel he could do much to help and it's hard for everyone to see you suffering without actually being able to do anything about it," she said.
The Duchess went on to explain how the morning sickness led her to hypnobirthing–a relaxation method that helps moms feel physically, mentally and spiritually prepared for giving birth. From this, she realized the importance of "mind over the body."
"I'm not going to say that William was standing there, sort of, chanting sweet nothings at me," she joked. "He definitely wasn't. I didn't even ask him about it, but it was just something I wanted to do for myself."
So, when it came time to deliver her children, she focused herself and her energy in a different way. "I saw the power of it really, the meditation and the deep breathing and things like that, that they teach you in hypnobirthing, when I was really sick, and actually I realized that this was something I could take control of, I suppose, during labor," she said. "It was hugely powerful."
Middleton also reminisced about her own childhood and talked about her "amazing granny" who would play, garden, and complete arts and crafts projects with Kate and her siblings. These are all things she now likes to do with her own children.
It's these happy memories and positive experiences that made Kate want to focus on early childhood and the "5 Big Questions on the Under Fives" survey. The Duchess hopes the survey will create a conversation around the importance of early childhood care and help the next generation of kids grow up healthier.