The Sussexes and The Cambridges Are Teaming Up for a Very Important Reason
The Royal Fab Four are joining forces for an important cause.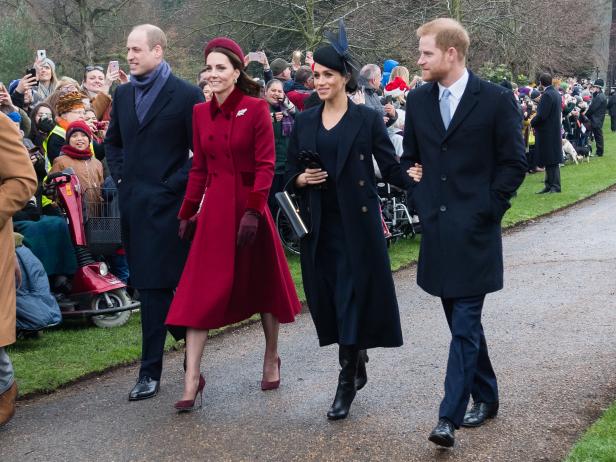 1086572510
KING'S LYNN, ENGLAND - DECEMBER 25: Prince William, Duke of Cambridge, Catherine, Duchess of Cambridge, Meghan, Duchess of Sussex and Prince Harry, Duke of Sussex attend Christmas Day Church service at Church of St Mary Magdalene on the Sandringham estate on December 25, 2018 in King's Lynn, England. (Photo by Samir Hussein/Samir Hussein/WireImage)
The "Fab Four" of the Royal family may be working on separate causes and running different Instagram accounts, but they are working together to lend their voice to a powerful public service announcement about mental health.
Working with Every Mind Matters, a program that focuses on improving mental health, the Royal couples took part in a video that aimed to "help people take simple steps to look after their mental health, improve their mental wellbeing and support others," the Kensington Palace Twitter account reported.
The three-minute video, which is narrated by all four Royals, was directed by Richard Curtis, who is an outspoken advocate for mental health and famed for directing Notting Hill and Love Actually.
The video beings with Prince William starting, "Everyone knows that feeling, when life gets on top of us,'' and continues with Prince Harry speaking about the symptoms felt by those struggling with mental health, explaining that, "we feel stressed, low, anxious or have trouble sleeping. We think there is nothing to be done, nothing we can do about it."
The Duchess of Sussex is up next with an explanation of how Every Mind Matters is available to help. Finally, the Duchess of Cambridge recommends online tools that are created to help strengthen your mental health.
Also featured in the video is actress Gillian Anderson, who has spoken openly about her struggles with anxiety, as well as Great British Bake-Off winner Nadiya Hussain and legendary actress Glenn Close.
In the past, Prince William and Prince Harry have both shared their own battles with mental health after the death of their mother Diana in 1997 and have tried to steer the conversation from something that is taboo to a topic everyone can comfortably discuss.