Loren and Alexei Won MTV Movie & TV Award for Best Reality Romance!
We're thrilled for the adorable 90 Day Fiance couple.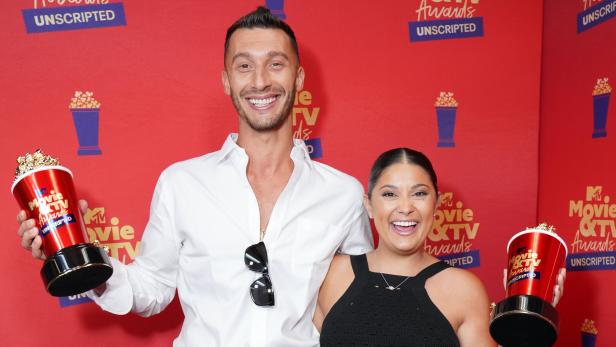 1401254074
SANTA MONICA, CALIFORNIA: In this image released on June 5, (L-R) Alexei Brovarnik and Loren Brovarnik win the Best Reality Romance at the 2022 MTV Movie & TV Awards: UNSCRIPTED at Barker Hangar in Santa Monica, California and broadcast on June 5, 2022. (Photo by Presley Ann/Getty Images for MTV)
Congratulations, Loren and Alexei! The 90 Day Fiance couple attended the MTV Movie & TV Awards on June 5, 2022 and won the award for "Best Reality Romance." They were absolutely honored and took home a pair of coveted golden popcorn trophies.
In an Instagram post, Alexei thanked everyone who voted and contributed to the win. His caption said, "This just happened, can't believe it! Thank you so much to everyone who voted, to all of our fans and all the people who supported us so far!!! We couldn't do it without you! Hope you continue this journey with us! More to come!"
Loren and Alexei have come such a long way since their early 90 Day Fiance days. Now, they have a beautiful family of four (soon to be five!) and we can't wait to see the next chapter of their special love story.
Cheers to the winners! They sure deserved it.