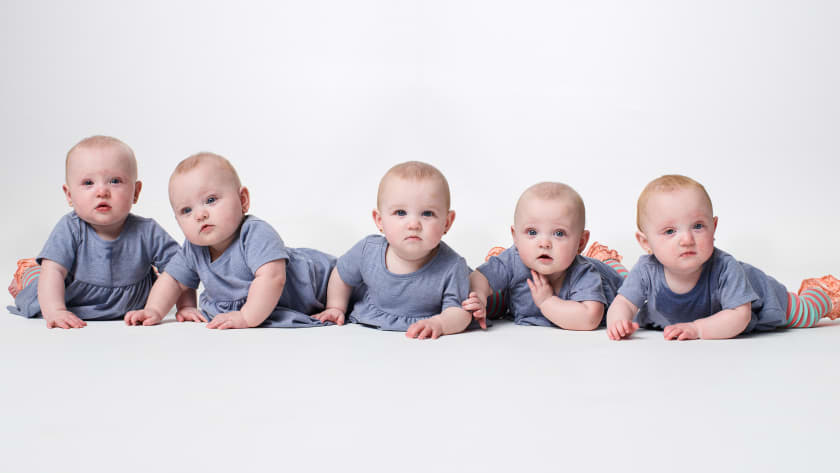 The quintuplets were born April 8, 2015, to Danielle and Adam Busby in Houston. They were 28 weeks old. It took just four minutes to deliver Ava Lane, Olivia Marie, Hazel Grace, Parker Kate, and Riley Paige. Ava and Olivia are identical twins.
Ava is the oldest of the quints and one of the identical twins with Olivia. She is very serious most of the time and very sweet. She shows little glimpses of her goofy side when she sees Olivia get going. Ava loves playing with baby dolls and loves being tickled.
Olivia is 2nd baby born and the younger of the identical twins. She loves to laugh and make others around her laugh. She likes to have an audience. When she get's people laughing, she will dance and spin. Olivia has the biggest dimples.
Hazel is the 3rd baby born and the smallest at birth at 2lbs. She is the only baby that has red hair and blue eyes. All of the others are blonde hair with blue eyes. She has an eye condition called nystagmus that causes her eyes to flutter uncontrollably. Hazel is super sweet and loves to cuddle. She is the last baby to walk, but she has the biggest vocabulary.
Riley is the 4th baby born and has always been the rowdy one. She is the first to greet the strangers and always wants to wander around and explore. Riley loves sweets the most. She is a little drama queen and knows how to manipulate everyone around her to get what she wants.
Parker is the youngest of the quints. She is the tallest. She loves to climb and is the most mobile. This girl RUNS! Parker is the most observant and likes to people watch. Parker has the sweetest little grin. She has always been the quietest, but has come out of her shell since being more mobile. She squeals a lot now and likes to be loud. Parker loves shoes!