LOVE AT FIRST KISS
Are you single and interested in being on Love At First Kiss? Are you ready to push the limits and put physical compatibility FIRST? If you want to step outside of your comfort zone for the sake of love, then here's your chance at your last first kiss.
We're looking for singles in the Southern California area to be a part of this revolutionary matchmaking experiment. Don't miss out on making a great first impression! Email us with your full name, contact info, city you live in, city you're from and recent photos of yourself, along with a brief bio on why you're single at: CORNWELLCASTING@GMAIL.COM

Disclaimer: Applicant agrees to pay all federal, state, and local taxes, including income, use or sales taxes or any other governmental charges imposed on prizes, including the value of any goods or services received and cash gifts, if any, given to me or received by me by reason of my participation in the program and I release and indemnify producer from any liability therefor. I also authorize producer to deduct or withhold any such taxes or charges that require a payment prior to delivery of said prizes, cash or gifts.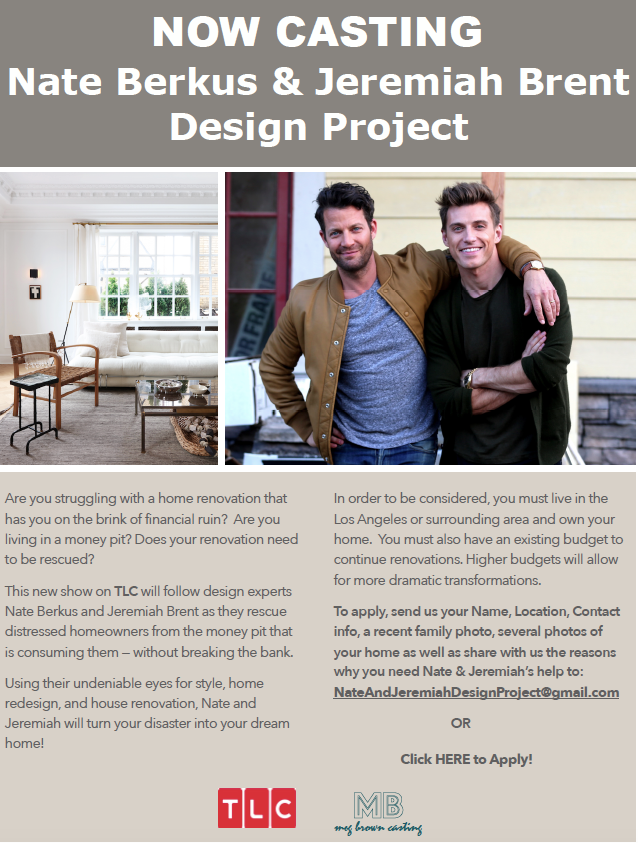 TWO IN A MILLION
Do you have one of the world's rarest medical conditions? Two In A Million follows two individuals who share the same condition as they embark on a journey to discover how the disorder that has so greatly influenced their life, also affects someone else. We are looking for people who would be interested in taking part. If that could be you, please email your name, email address, phone number and some information about yourself and your condition to twoinamillion@raw.co.uk
If you are interested in finding out more about any of the conditions featured in the series so far, please email us at twoinamillion@raw.co.uk with your name, contact details and questions.


LONG LOST FAMILY
If you are desperate to trace a LOST FAMILY MEMBER and have been searching with no success, the Long Lost Family team would like to hear from you: longlostfamily@shedmedia.com
My 600-lb LIFE
Are you or someone you love struggling with extreme weight over 550 pounds?
The producers of My 600-lb Life are searching for individuals weighing over 550 pounds who are ready to make a life change.
If this describes you or someone you know, then please send us your NAME, AGE, HEIGHT, WEIGHT, CITY YOU LIVE IN, as well as a BRIEF BIO with your best contact PHONE NUMBER to weightloss_cast@megalomedia.com


RATTLED
NOW CASTING NEW PARENTS!
We are now casting a docu-series that tells the stories of new parents as they navigate diapers, 4 AM feedings and everything in between. Are you and your spouse preparing to welcome your first born into the world or will this baby be born into a blended family? Are you living with your parents or will you be a single mother going at it alone? Perhaps you are preparing for baby #2 while your first is still in diapers? We are looking for heartfelt and compelling stories about the unforgettable experience of becoming parents. If you are preparing for the birth of your child and want to share your story, please contact us at castingdirector@magilla.tv along with your names, ages, location, phone number, how far along you are in your pregnancy, and a few sentences about your story.


PLAN TO GET PLASTIC SURGERY?
Do you plan to undergo a major physical transformation through facial plastic surgery?
TLC is currently seeking women who plan to radically alter their looks in an effort to boost their confidence and change their lives.
Whether you're getting surgery to fix a physical ailment you've struggled with all your life or to finally look the way you've always dreamed, we want to hear from you!
To apply please email PlasticSurgeryCasting1@gmail.com with your full name, age, phone/email, what procedures you plan to get and why, and current photos.

LOVE AT FIRST SWIPE ARE

If you or someone you know needs a style and profile makeover, email us at LAFSCASTING@janestreetentertainment.com

ARE YOU TRANSGENDER AND OVERWEIGHT??

Are you TRANSGENDER but carrying too much EXCESS WEIGHT to qualify for SURGERY or HORMONES? Would you be willing to share your unique story and weight loss journey with America to help inspire others? Email us at TransgenderCasting@OffTheFence.com
ARE YOU UNHAPPY WITH YOUR CURRENT WARDROBE?

Have you searched endlessly for a solution to your style nightmare? Is your lack of style keeping you from reaching your goals? Does your sister or friend have trouble with their fashion sense? If so, then a celebrity stylist may be able to help! Now casting women in the NY/tri-state area between the ages of 20-49 in need of a serious makeover from a top fashion stylist! We're looking for women who really need help with their style and self-image. Our award-winning stylist will have you feeling confident and looking stylish in no time!
To apply or to nominate a friend, email freemakeovernyc@gmail.com. Please include your name, age, location, contact info, 3 photos of yourself, 1 photo of your closet and a few sentences telling us why you need a makeover. Thanks and we look forward to hearing from you!
WOULD YOU LET YOUR PARENTS PICK YOUR SPOUSE?

Now Casting Single Men & Women looking to get Married... by their PARENTS.
TLC and Thinkfactory Media are looking for single men and women who are open to having their parents find their spouse and are willing to do so on television. This is a voluntary modern day take on arranged marriages.
Are you tired of the dating scene? Are you ready to find the "one" for you and get MARRIED? We can help you find the love of your life through our unique social experiment. If you are single between the ages of 20 and 35 and are looking to find a wife/husband in an unexpected way, we want to hear from you.
Please respond with the following to mbmd@thinkfactorymedia.com:
1. Name
2. Phone number and email
3. A short paragraph containing biographical information about yourself (occupation, where you grew up, education, what you're looking for in a man/woman, etc.)
4. 2-3 recent photos of yourself
5. Links to social media pages to ensure you are real

ARE YOU IN LOVE WITH SOMEONE YOU BARELY KNOW?

Have had your eye on that girl from the coffee shop, local bartender, or guy from the gym for months?
What if she is the one? What if he is the person you are supposed to marry?
We're seeking men and women who have secret crushes on anyone from colleagues, to acquaintances, to total strangers for a new series on finding true love, right under your nose. If you've been waiting forever for the perfect moment or line, but just need help making that move - we are looking to help YOU!

E-Mail: weshouldbetogethercasting@gmail.com

BRIDE BY DESIGN
Bride by Design is casting! Are you looking to buy a CUSTOM, one-of-a-kind wedding dress? Have you tried on countless wedding dresses but can't seem to find the one?

If you answered yes to either of these questions, look no further: Heidi Elnora, dress designer extraordinaire, and her amazing team are getting ready to create YOUR PERFECT DRESS! We are currently casting for outgoing new BRIDES-TO-BE who would like to have their wedding dress adventure filmed for Bride By Design.

To apply, send us your contact info (full name and phone number), your wedding date, dress budget, dress size and sample photos to bridebydesigncasting@gmail.com or apply here: http://triumentertainment.com/portfolio/now-casting/


BRIDES GONE STYLED
Do you know a bride - or are you the one - who needs help going from wild to styled on her big day? Worried a soon-to-be bride could be making the biggest fashion mistake of her life? Whether you're goth, punk, too sexy, or geek, let us transform you to wedding-day chic. Fashion experts Robert Verdi and Gretta Monahan will have you walking down the aisle in style.
If you or someone you know needs help, please email bridesgonestyled@gmail.com with the name of the bridge-to-be, age, phone number and why you or she is in need of assistance. Please include photos showing off this person's current problematic style.
CURVY BRIDES
Curvy Brides is casting! Ready to be around consultants who know how to help you get your size 8 to size 30 body into an once-in-a-lifetime dress?
If you're a bride-to-be having a hard time finding a fantasy fit for your unique shape, then this is the TLC bride show for you! So, if you or someone you know is willing to shop at Curvaceous Couture on camera, then send us your contact info (full name and phone number), your wedding date, dress size and sample photos to CurvyBridalShow@gmail.com.


DARE TO WEAR
If you're in a style rut, live in the Southern California area and want Tai Beauchamp's expert help to revamp your look, email makeovercasting@shedmedia.com. Please include your name, location, cell phone number, plus a recent photo and description of your current style

EXTREME CHEAPSKATES
Are you the thriftiest person in your circle of friends? Is cheap a way of life for you? Do you cut costs by any means necessary? If you or someone you know loves to save a buck or pinch a penny then we want to hear from you! Email us at extremecheapskates@gmail.com.
I STILL DIDN'T KNOW I WAS PREGNANT
If you went into labor without knowing you were pregnant, and it happened to you twice, then we want to hear about it.
We are specifically looking for stories where the first surprise birth, as well as the second surprise delivery, occurred immediately after finding out about the pregnancies.
Send a summary of your story to idk@mikemathisprods.com. Be sure to include your name, email and a phone number where you can be reached for further questions.
MY STRANGE ADDICTION
My Strange Addiction is casting! Think you have an unusual compulsive behavior or strange addiction? Does it consume your life, affect you relationships, like these twins?
If you or someone you know is suffering from a strange addiction and would be interested in participating in our program, please send us a short description of your unusual behavior and the impact it has on your daily life to: strangeaddictioncasting@gmail.com. Please make sure to include your name, age, city of residence, a current photo, and a phone number or email where you can be reached for further questions.
SAY YES TO THE DRESS
Are you a bride planning an outrageous or extravagant winter wonderland or holiday wedding and still shopping for your dream dress? If so, the hit show "Say Yes to the Dress" wants to hear from you! Filmed at Kleinfeld Bridal, the world's premiere bridal salon -- located in NYC. Apply online at Kleinfeld Bridal.


SAY YES TO THE DRESS VIP Experience
Say Yes to the Dress's fashion expert, Randy Fenoli, wants to give a deserving bride the royal treatment with the ultimate dress shopping experience. He'll whisk them away to the world famous Kleinfeld Bridal where they will receive the ultimate VIP experience.
If you know a deserving bride with a great story, nominate them here: bridecasting@gmail.com. Include your name, phone number, the candidates name, a recent photo and why you think they are deserving!
SAY YES TO THE DRESS ATLANTA
We're looking for soon-to-be brides who are shopping for a wedding dress in the greater Metro Atlanta area. If you are interested in allowing us to film your experience for an upcoming reality show, submit your information now.
SEEKING LARGER THAN LIFE INDIVIDUALS!!
Are you struggling with extreme weight AND dealing with a major life crisis? If you are plus sized and getting married, have issues with hoarding, struggling with addiction that is not food related, incarcerated, have a twin, or preparing for catastrophe, we would like to hear your story. If you are Big and Bold and want to share your life story email us at itsmylifeplus@gmail.com Please include your name, age, your city and state, how much you weigh and a photo. Also tell us about your life and the emotional and physical challenges you are facing.
SEX SENT ME TO THE ER
Do you and your partner have a fun and unusual story where a sexual mishap lead to an Emergency Room visit? We want to hear from you! Email us at erlovestory@gmail.com with your name, email address, phone number, a photo, and a brief description of your story or call 818-728-4125.


SKIN TIGHT
Have you experienced significant weight loss and are now left with excessive amounts of hanging skin on your body?
If this describes you and your skin makes you feel embarrassed, prohibits you from achieving personal goals, affects your relationships, career or other aspects of your life, then please send us your NAME, AGE, HEIGHT, BEFORE & AFTER WEIGHT, CITY YOU LIVE IN, BEFORE & AFTER PHOTOS, as well as a BRIEF BIO with your best contact PHONE NUMBER.
STRANGE LOVE
It's been said that love is blind, love conquers all, and that above all else, love will find a way. The TLC series Strange Love follows the lives of the people who are living proof that there is someone for everyone - even if that someone is a bit out of the ordinary. We explore the romantic, shocking and sometimes provocative relationships of America's most surprising duos. Do you think you could be a right fit for this show and potentially find love?
strangelove@thinkfactorymedia.com
STYLE BY JURY
Style by Jury is casting! Are you or is someone you know a fashion victim in need a makeover? Are your looks keeping you or them from moving forward in some aspect of life?
Does your friend, wife or mother need a hair, makeup and wardrobe update?
Are you a single mom or divorcee struggling to make yourself a priority?
Are you putting everyone's needs before your own?
Do you hate to smile because you're afraid to show your teeth?
Have you survived a hardship or an obstacle that has left you feeling unattractive?
Have you gone through a bad breakup and you haven't bounced back physically or emotionally?
Do you feel like your looks in general have held you back from a job or relationship?
If this is YOU or SOMEONE YOU KNOW: Please e-mail us at stylebyjury@gmail.com your name, age, contact information, recent photo and why you or someone you know is deserving of AND in need of a full makeover.


90-DAY FIANCE- CASTING NEW COUPLES!
Have you found your one true love abroad? Was the man or woman of your dreams simply overseas? If you and your foreign fianc? are looking to walk down the aisle in America, we want to be there! TLC is currently seeking couples to feature on our docu-series 90 Day Fianc? that follows the day-to-day efforts of couples planning to enter the U.S. on a K-1 Visa. Any age, ethnicity, and gender may apply. If interested in sharing your unique journey, please email us at k1showcasting@gmail.com.