On the last season of "19 Kids and Counting," we watched the relationship between Jessa Duggar and Ben Seewald grow. We saw Ben nervously ask Jessa's father for permission to court, plan a series of sweet dates (with chaperones, of course!), and move in to the Duggar's home. And at the end of last season, Ben orchestrated one incredibly romantic scavenger hunt proposal -- and Jessa said yes!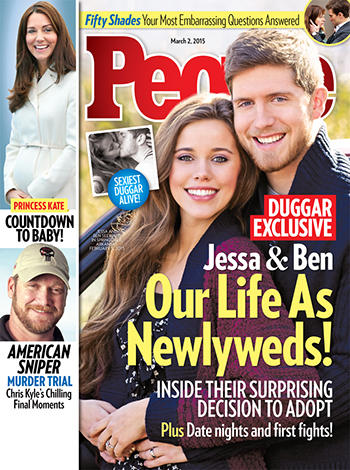 This past November, Jessa, 22, and Ben, 19, tied the knot in front of 1,000 people in Bentonville, Arkansas. (Don't worry, you'll get to see the lovely event later this season!) They've moved out of the Duggar home and are definitely enjoying life as newlyweds.
Jessa and Ben recently sat down with PEOPLE magazine to discuss their new, quieter life together as well as their big plans for the future. Ben, who himself is no stranger to large families (he is one of seven siblings), and Jessa have found it tough to get used to living in a less chaotic environment. "One thing I've had to adjust to," Jessa told PEOPLE, "is not having my siblings around - especially my sisters because we are so close."
But based on all of the Instagram pictures of the happy couple, they seem to be savoring their newfound alone time.
Jessa and Ben are also excited to grow their own family. And they've got plenty of older siblings to consult when it comes to parenting tips. Jessa's older brother Josh and his wife Anna are expecting their fourth child this year and Jessa's older sister Jill, who was married last summer, is pregnant with her first child. However, Jessa and Ben are considering going a different route.
"We hope to adopt a lot of kids," Jessa tells PEOPLE. "If God blesses us with biological kids of our own, it's not going to quench our desire to adopt."
Relive the couple's sweet proposal story below.